When I first started listening to the space shuttle and UHF SatCom I didn't get very good recordings. The signals from the space shuttle are sometimes very weak. I decided that I would need some kind of amplification of my antenna signal.
On eBay I found a Watkins Johnson 6201-113T amplifier. At the time I didn't pay much attention to noise figure and just focused on GAIN. So I overlooked the fact that it had a noise figure of about 7 dB. But it is an old amplifier. See here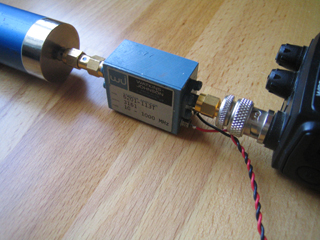 With that noise figure I am amazed that I could hear anything at all. But it worked pretty good for some time. Then I started to pay attention to noise figure. Again on eBay I found an amplifier from RF Bay that had a noise figure of only 0.6 dB at 250 MHz which is pretty much in the middle of the UHF satcom band.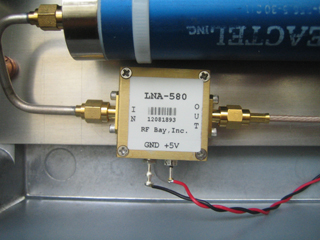 By the way...the blue thing connected to the amplifier in both pictures is a SatCom filter. Again this was something I found on eBay. The filters from Reactel are extremly good. Here and here you can see a plot of the filters. The Reactel filter is a 5B4-256.5-30 S11. In essence a 241.5 - 271.5 MHz bandpass filter. The S11 is connector info which in this case is SMA. Above you can see my amplifier box which I used on the roof for some time.
Last year I decided that I would try to build my own amplifier. I didn't know if I could get the noise figure lower then 1 dB. Since I had some BF998WR's in my "junk-box" I figured they should be used for this project. The intended use for this amplifier was the space shuttle on 259.7 MHz. As can be seen from this noise figure measurement its actually pretty good...about 0.79 dB.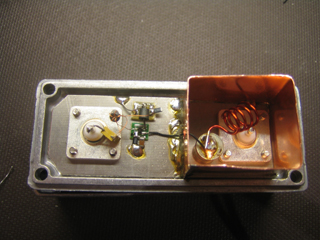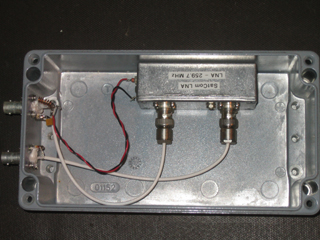 Here is the schematics for the LNA.
This is the final result. A pretty good home made Low Noise Amplifier. In these four pictures you can see the difference between the three amplifiers.