At the moment I'm using this EB100 from Rohde & Schwarz. Its an old model from the 80s but it is a very high end product and the IF filters are top quality. In these modern times with Software Defined Radios the EB100 is connected to an SDR-14 from RF Space. Now this is a setup!!!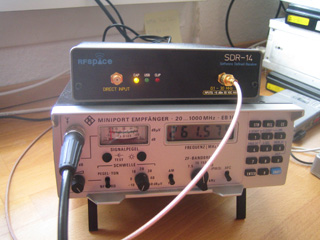 The EB100 covers 20 - 1000 MHz with 7.5, 15, and 150 kHz bandwidth. This is really a nice receiver. The only problem is the scanning feature. It can store about 20-30 frequencies and scan them but its slow. I need a receiver from the 21st century that has all the features we nerds need. But where do I find such a receiver?!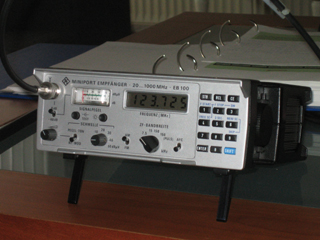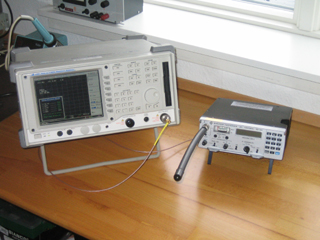 I got the EB-100 from Helmut Singer Elektronik in Germany.

Below is the manual (in german).

Table of contents (Inhalt)
Chapter 1
Chapter 2
Chapter 3


When adjusting my antennas it can be useful to have a signal strength indication. So I decided to build a simple hand-held meter that I could bring with me to the roof.
| | |
| --- | --- |
| The result. | Meter in action. |
The DIN power connector on the EB100 also has some outputs. One of these is the signal strength output. The level is 0 to 3.5V and the 101-led display that I had in my "junk box" was a 0 to 5V meter. So I needed a small DC amplifier which is the LT1498 circuit in the schematic.
The schematics for the signal strength indicator can be found here.
I'm also considering building a lead acid battery charger for the 6V battery. The charger that came with the EB100 was not good. So my battery looses charge pretty fast. But I have been told that Unitrode (TI) has made a complete lead acid battery charger IC. The UC3906 wired as a 6V charger is described in detail in their U-104 application note. That's the next project...!