This is the best receiver I have ever had. The guys at #hearsat told me that I should get one of these...what a good idea. It is a software defined receiver that is connected to a PC through the USB port. The software is called SpectraVue and I just love it. The "waterfall" function which can be seen below is a very useful tool in picking up very weak signals.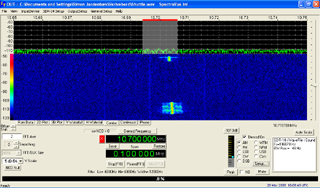 The recording that can be seen above is Discovery during De-orbit. And it is this recording.
If you do not have one of these...get one! The SDR-14 from RFSpace is a great buy.
I got myself a little Christmas present...a second SDR-14. :)